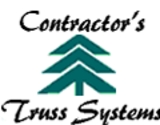 Email Us
Phone: (870) 435-5655
Phone: (888) 525-7686
Fax: (870) 435-5021
Visit Our Site

2877 Cotter Road
Cotter, AR 72626

Contractor's Truss Systems

Planning on building a home or commercial structure in the near future?

Then Contractor's Truss Systems can supply you with the engineered wood products you need.

Kent and Teresa Newman, owners and operators of Contractor's Truss Systems, opened their business in June 1993. Located on the banks of the beautiful White River at 2877 Cotter Road in Cotter, Arkansas.

The Newmans saw there was a need for a truss plant to serve north Arkansas and southern Missouri. Since they were in the building business, they were aware that engineered wood products were necessary for sound, structural support.

Roof and floor trusses are their specialty, but they sell any type of engineered wood product for the construction of homes or commercial structures.

Contractor's Truss Systems pride themselves on giving first rate service to their customers. "We make sure our customers are satisfied by giving personal service to every client," says Kent Newman. "Your satisfaction is guaranteed, whether you're building a single home residence, a group of apartments or a commercial building."

Structural design services are also available for those needing this service. "If you have an idea but don't know how or where the support is needed, give us a call. We'll discuss your idea and tell you how Contractor's Truss Systems can make it structurally sound. It's a call worth making."
Products offered by Contractors Truss Systems include:

• Authorized Paslode Dealer
• Roof Trusses
• Floor Trusses (wood or metal web)
• I Joists
• Glulams
• Microllams
• Hangers
• Stabilizers
• Garage Door Headers

Kent and Teresa would like to assist you in your next building project. Contractors Truss is opened Monday through Friday, 7 AM to 5 PM. The toll free number is 888-525-7686.